I.P.G. (Independent Performance Group)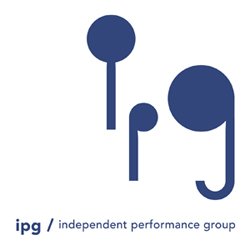 IPG THE INDEPENDENT PERFORMANCE GROUP, IS A NON-PROFIT ARTS ORGANISATION FOUNDED BY MARINA ABRAMOVIC IN 2003.

IPG INCLUDES 41 ARTISTS FROM OVER 15 COUNTRIES, EACH DEMONSTARTING DIVERSE APPROACHES AND STYLES IN CONTEMPORARY PERFORMANCE PRACTICE.

IPG SUPPORTS THE GROWTH OF PERFORMANCE ART BY PROMOTING THE WORKS OF EMERGING PERFORMANCE ARTISTS ON AN INTERNATIONAL SCALE, ORGANISING AND COLLABORATING ON PERFORMANCE EVENTS USING A NETWORK OF MUSEUMS, PUBIC SPACES AND PERFORAMNCE FESTIVALS.

IPG PROVIDES AN ARCHIVE OF DOCUMENTATION AND SUPPORTING INFORMATION ON EACH OF THE ARTISTS IN THE GROUP TO CURATORS, CRITICS AND ARTS ORGANISATIONS.

IPG PROMOTES AND SEEKS CRITICAL DISCOURSES ON CONTEMPORARY PERFORMANCE ART PRACTICE AND RELATED ISSUES.
Board of Advisors:
Rene Block, RoseLee Goldberg, Chrissie Iles, Akiko Miyake, Hans Ulrich Obrist, Robert Wilson


IPG Team:
Marina Abramovic – IPG Founder and Curator
Anna Berndtson – IPG Director
Declan Rooney – IPG Director
www.i-p-g.org