particles rev.
10.08. – 08.09.2012
>> Tin Sheds Gallery, Sydney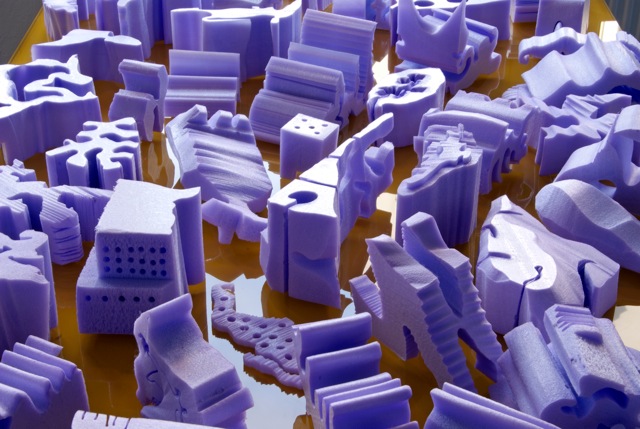 particles rev.
is an international collaboration between fine artist Hannes Malte Mahler and the designer Steven Janssen. Data sets of iconographic imagery are transferred via internet from Germany and translated via a styrofoam cut into the physical world, where they are assembled over the period of the exhibition.
Hannes Malte Mahler would like to invent himself newly every day. He has become an artist to explore the world; of others and himself. Therefore he loves to work with different media and materials. He is a photographer, draughtsman, painter, sculptor and performance artist — but first and foremost a great experimenter in various fields - not only as an artist, but also as a curator. His studio serves as a laboratory for his own art as well as a showroom for colleagues. He first gained attention with performances in which he made live drawings according to the visitors' wishes. Always friendly and complaisant, but still subversive and quite different from the orderer's expectations.
Steven Janssen's robot facilitates Mahler's inventions. In recent years, he has produced interactive robots on different scales that enable the expression of different human desires and emotions, such as the drawing machine (also present in this exhibition).
The current styrofoam projects are related to Mahler's drawing performances. In particles rev., the spectators cannot wish for the production of one artwork, but they are still allowed to chose a 'particle' and take it away (for free). These small styrofoam sculptures are fabricated in public. Somewhere between abstract and representational, Mahler cuts those objects with a hot wire out of the very poor material. While they are uniform in their identical material, forms and subjects vary immensely. Out of this population myriads of single particles swarm into the world, expedited and distributed by their collectors — multipliers of the artist's identity.
          Further information:
particles rev.